Moemoe Duvet Inners
Moemoe duvet inners: Alpaca or wool inners to snuggle up in regardless of the season.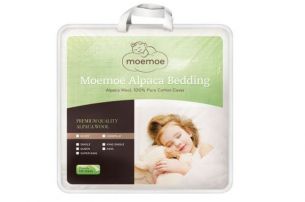 Moemoe, a maori word for sleep, provides premium bedding from NZ grown alpaca and sheep wool.
Moemoe duvets and underlays are 100% New Zealand made, using minimal chemicals and additives for a natural, healthier sleep.
These fleeces are sustainable, non-allergenic, odour and mildew resistant, a perfect choice for asthma sufferers.
Available in 100% NZ alpaca wool, or 100% NZ lambswool. Moemoe lambswool duvets and underlays have a variety of weight options: 300gsm, 500gsm and a combo clip together version (200gsm+300gsm)
Category Products:

Moemoe Alpaca duvet

Moemoe Wool duvet